2 Days 1 night: NakhonSri Thammarat 
+ Pattalung + Klong-Dan traditional village.
This trip is for the people who love to study about the traditions of the local people and history of old Buddhist. It is a trip for people who like to see something different. The below is the highlight pictures and content about the trip.

The grand pagoda (Mahathart) temple
The grand pagoda (Mahathart) temple; this temple is considered to be the meaning of the original Buddhist and the developing way of Buddha Religion in Thailand. There are so many high valued marks for study inside.

Klong Dan.
The local traditional village is located on the canal' sides at Klong Dan. It is a great place to study about the beautiful original tradition of Thailand's south.

Fresh Market
The biggest fresh market of Nakhon Sri Thammarat, which you can go to see or buy some. It is the biggest center of agriculture products. Nice walking around and taking  a look.

The birds & lotus sea
The birds & lotus sea is the best place to see the "water animal life"

Accommodation
The best hotel in NakhonSri Thammarat city- twin lotus- is your place for overnight.
Brief programs

Day 1: (lotus & bird sea + old history of Buddha temple)

06:00 AM:
Pick Up from Hat-Yai hotel
08:00 AM:
Discovery lotus & birds sea
10:00 AM:
Rafting at Klong-Ching.
12:00 PM:
Lunch
13:00 PM:
Depart for NakhonSri Thammarat
16:00 PM:
Arrival NakhonSri Thammarat, the old history Buddhist province of Thailand.

Visit the Grand Pagoda temple (Mahathat temple)
17:00 PM:
Check in at "Lotus Hotel" in NakhonSri Thammarat.
Leisure of old NakhonSri Thammarat nightlife.





Day 2: (fresh market of NakhonSri Thammarat + traditional of local people village)

07:00 AM:
Breakfast
08:00 AM:
Our tour guide pick up for looking the "fresh market life at Khukwang market (the biggest agriculture products market of the south.
10:00 AM:
Back to the hotel – refreshing
12:00 PM:
Check out
12:30 PM:
Depart from the hotel to "Southern local people restaurant for lunch"
14:00 PM:
Arrival "Klong Dan traditional local people village".
Visiting the canal side village
17:00 PM:
Arrival your hotel in Hat-Yai.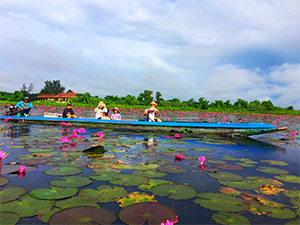 Price:


Adult 12,000 Baht/person

(minimum 2 people booking)



Child 10,000 Baht/person (3-10 years old)
Tour includes:
Pick up and drop off from your hotel in Hat Yai.
All places entrance fee in the program
English tour guide
Accommodation at "Lotus hotel in Nakhon-srithamarat
Meals: lunch-dinner-breakfast – lunch included.
Insurance (accident)
---
Very! very important....Why Jc.Tour?
Jc.Tour had registered for Tourism Company under the rule of Thailand Law: Both Outbound(31/01235) for around the world travel. Inbound(34/00235) for traveling in Thailand.
The right registration can be checked, and you can check for Jc.Tour at http://www.tourism.go.th
Jc.Tour is the Top Responsible and Great Service in TripAdvisor Rank.
Jc.Tour has been registering for Accident Insurance all around the world (Inbound: for travelling in Thailand and Outbound for around the world travelling). This makes sure that all the customers of JC Tour will be covered by Insurance in everywhere of the world they reach.
Before, During and After the service, you can contact us 24 hours.